The Gunbad-i Kabud in Maragha (Iran) from 1197 BC is a convincing prove for the use of  girih tiles during the construction process. The decorative pattern on the wall panels isn't irregular, for the pattern is mirrored on the adjacent wall panel. But it's hardly doubtful that a panel containing so many forms based on 5- and 10-fold symmetry would be used as unit repeat to cover a building.
wall pannel and mirroring as unit repeat en spiegeling vormen de eenheidstegel
Karatay Madrassa
Cromwell notices that the pattern on a wall panel of the Gunbad-i Kabud  can be used as start for the decoration with central rose motive in the Karatay Madrassa of Konya (Turkey 1251). In the first picture you see a wall panel of Maragha placed in a quarter part of the Konya pattern. Cromwell notices that the arrangement is the tiles is mirrored but not the line pattern on them. Above and below two bow ties overlap, but this geometrical problem was clearly regarded as less important than the rose motive.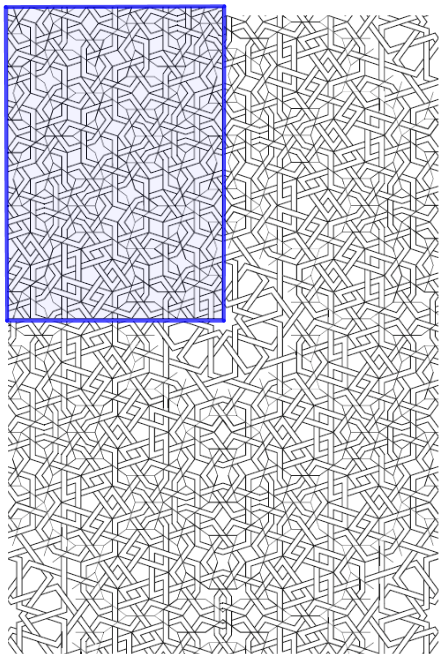 A second picture shows the pattern of Konya in a detailed photograph.