In the Turkish Topkapi palace a scroll is kept with construction desings. Some of them clearly show a girih pattern. In the next picture the five forms are colored.

Dual layer patterns
The drawing on plate 28 of the scroll show a multi-layered pattern.
The light gray lines match with a pattern of girih tiles. The dark gray lines show the associated line pattern.
The red lines match with a pattern of much bigger girih tiles.
In following applet you can show the colored girih tiles of both layers upon the original drawing.
This drawing shows the girih tiles of both levels: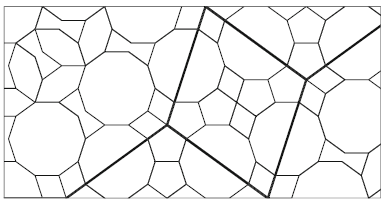 On other panels of the scroll too we can find 2-layered patterns